Three weeks in the Pyrenees, ticking off as many Tour de France Cols as possible. Not a bad way to spend a summer holiday!
When you love cycling (or any sport for that matter) it's good to set goals or invent challenges to keep yourself motivated. Our goal for the last couple of years has been to climb as many Tour de France Cols as possible. This ambition has partly been inspired by watching the Tour each year and Simon Warren's book 'The 100 Greatest Climbs of the Tour de France'. https://www.100climbs.co.uk/apps-1. Simons book (and handy App) has a detailed breakdown of each climb, maps directions, gradients etc. and perhaps most importantly an all-important tick list at the back (you've got to love a tick list).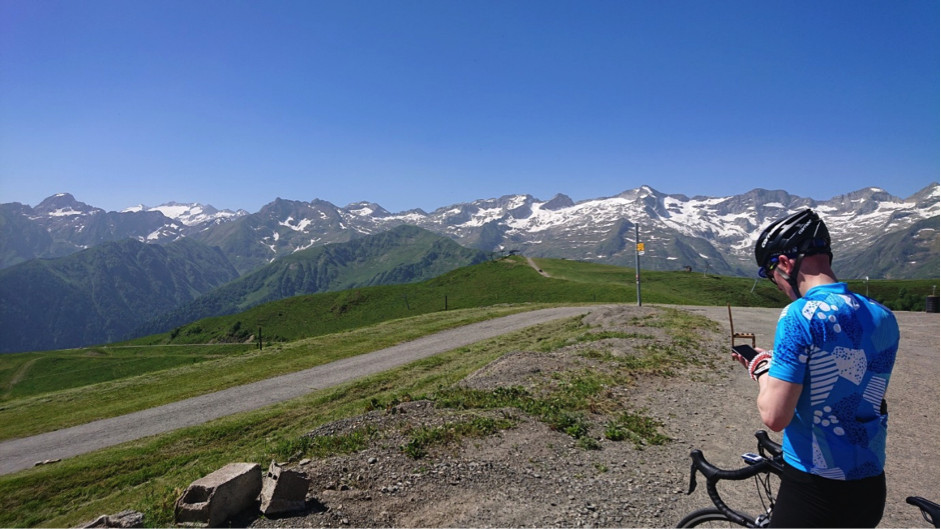 Last year we visited the French Alps and this year it was three weeks in the Pyrenees, touring from campsite to campsite to bag our chosen climbs. We spent many a dark winter evening planning our trip and working out which Cols to climb. However, we hadn't planned nor anticipated the hottest French summer's day on record, nor realised just how debilitating this heat would be for two pasty faced northerners. The heat was in fact intense, way hotter than we had bargained for. We recorded 47 C one day on the Col de Mente and quickly realised exercise, high temperatures and no shade was a dangerous combination. We googled the symptoms of heat stroke and realised I had been exhibiting some of the early signs. Dizziness, nausea and a very weird tingling sensation down my spine -not nice at all.
So we decided to be sensible and started to get up much earlier to catch the coolest part of the day and avoiding the midday sun. This proved to be a perfect solution, on the shaded side of forest covered mountains the roads were blissfully cool and our ascents were glorious. During the first week we climbed the Col de Peyresourde one of the most commonly ridden Tour climbs since 1910 (elevation 1,569m, 15.3 kilometres long). Then Superbagnères, my personal favourite, a beautiful climb with lizards darting across the road and vultures soaring overhead (elevation 1,800m, 18.5 kilometres). The Col du Portillion (elevation 1,293m, 10 kilometres) – up and over to the Spanish border and the Col du Bales (elevation 1,755m, 19.5 kilometres) a blissfully quiet climb, on deserted roads through thickly wooded mountainsides.
We quickly concluded that the Pyrenees provide the perfect cycling countryside, breathtakingly beautiful, well maintained roads, hairpins and the all-important challenging ascents. On the downside we now know Pyrenean cows have little respect for the rules of the road, French horse flies are vicious little things and there is an ever present threat of bear attacks…ok I may be exaggerating a bit on the last point but there are bears! More on this next time.